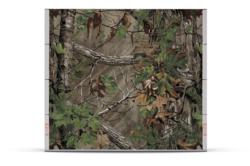 Arthur, IL (PRWEB) June 13, 2013
C.H.I. Overhead Doors recently introduced to Accents Images, a groundbreaking display that is vibrant, detailed and sharp. This new addition to the C.H.I. garage door product line, which is available in Realtree Xtra Green, gives homeowners more great reasons to work and play in their garage.
We were able to create something completely radical with Accents Images, something like youve never seen before, stated Merle Miller, Marketing Specialist at C.H.I. People are amazed at the quality and clarity of the images and how seamlessly the sections are pieced together.
The true beauty of Images is how accurately it portrays the vivid, true-to-life colors. Everything you see is rich and vibrant. Whether homeowners have a small outdoor escape or a generous workshop, the Realtree Xtra Green is a great addition to your garage.
Accents Images is available in four categories: Destinations, Patriotic, Patterns and Sportsman – each selected for their brilliant displays. This option is available for interior applications on models 2216, 2283, 4216, 4283, 5216, 5283, 5916, 5983 and available in interior/exterior applications on models 2217 and 2284. For more information on Images, visit our website at http://www.chiohd.com/accentsimages.
C.H.I. Overhead Doors is a prominent manufacturer of high-quality Residential and Commercial Sectional and Rolling Steel doors. Started in 1981 in Illinois Amish Country in Arthur, C.H.I. has risen to become an industry leader in innovation and quality. A mix of handmade craftsmanship and computer-aided precision join together to make C.H.I. Overhead Doors, The Door To Quality.