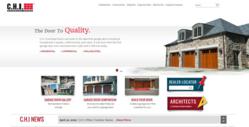 Arthur, IL (PRWEB) April 29, 2013
C.H.I. Overhead Doors recently released a new website which features a whole new lookone that provides the ultimate user-friendly experience with improved navigation and functionality.
We wanted to design a site that, beginning at the main page, made clear that this is a company that is always in motion, said Merle Miller, Marketing Specialist in the Marketing Department. Yet we also want the larger site to be responsive; to work as well on a phone as on a tablet or desktop.
Some new features of the website include a dynamic Garage Door Comparison page which allows users to find a garage door based on their preferred door style, material, color or insulation. But for those who know what they are looking for, we have included a Search field powered by Google that users can utilize to find specific product information. This site also incorporates mobile functionality to be used easily on a phone or tablet.
C.H.I. Overhead Doors is a prominent manufacturer of high-quality Residential and Commercial Sectional and Rolling Steel doors. Started in 1981 in Illinois Amish Country in Arthur, C.H.I. has risen to become an industry leader in innovation and quality. A mix of hand-made craftsmanship and computer-aided precision join together to make C.H.I. Overhead Doors…The Door To Quality. Learn more at http://www.chiohd.com.