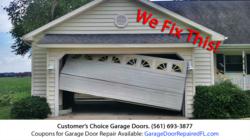 Stuart, Fl (PRWEB) May 07, 2013
Customer's Choice Garage Door & Openers Inc. is making garage door repair in Stuart, FL accessible to more people by cutting the price of their hurricane preventative maintenance package in half. With hurricane season fast approaching, the timing for this couldn't have been any better. Every part of the home needs to be structural sound during a hurricane and this service will make sure that any garage door is in the best condition possible. This preventative package is guaranteed and well-suited for the average home owner in Florida. It's also recommended for business locations with rolling garage doors and could help prevent any on-site accidents involving the garage door. As summer approaches, more people are concerned for hurricane safety.
This is what Donald Jett, owner of Customer's Choice Garage Door & Openers Inc. had to say about this package:
"Preventative garage door repair is a crucial part of home maintenance in the months preceding hurricane season. Some people think they can wait to call us when their garage door is broken, but a garage door should be treated like your car. They both have many moving parts that need to be adjusted and lubricated on a regularly scheduled plan in order to maximize the life and efficiency of the door. You don't just wait until your car blows the engine to change the oil, do you? The hurricane preventative maintenance package program is designed to detect issues and potential issues before the issue causes down time, service calls, bodily injury, or property damage."
Customer's Choice Garage Door & Openers is a veteran owned small business. They have been expertly repairing garage doors in Stuart, FL for over 3 years now. This local garage repair business started with just Donald Jett, a technician, and a truck to transport them around town. This small business now includes two technicians, a sales person, and a second truck to keep up with the demand of their customers. What sets them apart from other garage door repair companies in the area is that they offer prompt and courteous 24 hour service, guaranteed work and part and highly professional workmanship. Their formula for success may seem simple, but it keeps their customers happy, and at the end of the day that's what counts.
"Our 24 hour service, response time, and technicians are beyond comparison to our competitors. We strive for excellence in service and customer satisfaction on each and every call and we guarantee it. Our pledge is to establish lasting relationships with our customers by exceeding their expectations and gaining their trust through exceptional performance by every member of the Customer's Choice team.", says Donald Jett
The aforementioned package includes inspection, lube, and basic maintenance of the garage door to be serviced. This service will ensure that the homeowner's or business owner's garage door is in working condition before hurricane season begins this year. The good thing is that this peace of mind is 50% off. As they say, an ounce of prevention is worth a pound of cure. In this case, the prevention is priced very well indeed.
About:
Customer's Choice Garage Doors & Openers, Inc.

706 NW Buck Hendry Way

Stuart FL 34994 United States

(561) 693-3877

http://www.garagedoorrepairedfl.com/
Customer's Choice Stuart Garage Door Repair Video
This press release was written and created by Justin Kunst of Local SEO Services for Businesses. Visit them online at http://www.localseoservicesforbusinesses.com/ for small business marketing.