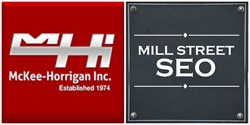 Toronto, ON. (PRWEB) July 25, 2013
The Mississauga-based garage door company, McKee-Horrigan Inc., informed the public of its successful marketing strategies, which are primarily digital. The report came last week in an effort to dismiss doubts over the company's presence in the marketplace. Not only does the report have intent to demonstrate the company's 'staying power', but it also has the intent to show that the garage repair industry still thrives.
The report from the company indicates the amount of online leads and inquires have multiplied five-fold, a record high unrivaled by increases in previous years. They credit their success to the strategies of their digital marketing agency, Mill St. SEO, which is based out of Toronto, Ontario. The agency specializes in online marketing techniques, including search engine optimization, social media, and content creation. With the help of the agency, McKee-Horrigan Inc. has been able to establish a strong presence on the web as well as an authoritative voice in the garage door repair community.
McKee-Horrigan's owner, Dave Banks, went on to further elaborate on his company's recent success: "We were able to reach an audience that we couldn't tap into even with traditional advertising and the Yellow Pages." He also went on to explain the role that Mill St. SEO played in the company's digital growth: "SEO has been very instrumental to our success, and Mill St. SEO has done a great job of putting us on the map."
In addition to the strength of their online marketing, McKee-Horrigan Inc. managed to increase profits and awareness by means of their focus on overhead commercial doors. A large number of businesses require assistance when it comes to heavy garage doors, an area that many garage repair companies ignore.
Due to increased knowledge and resources, a large number of homeowners now resort to so-called "do-it-yourself" or DIY methods in order to repair their garage doors. As a result, several door companies have to face the reality that fewer people may rely on them to repair their faulty or aged garage doors. In addition to this trend, people also tend to rely on more mainstream companies and franchises, such as Home Depot, when they seek assistance for repair jobs that require more time, effort, and equipment. This leaves smaller companies in a vulnerable position, since they have to contend with both apathetic customers and tough competitors.
About McKee-Horrigan Inc.
Established in 1974, McKee-Horrigan Inc. is a garage door company that specializes in commercial overhead doors, loading docks, and industrial renovations for businesses. However, the company dates back to 1950, where their origins began with the manufacturing of wood doors under the name McKee Door of Canada. The company has an expansive range of products that go beyond the commercial realm, including residential garage doors, door openers, and dock equipment. McKee-Horrigan Inc., which is a member of the International Door Association (IDA), is based out of Mississauga, Ontario, and provides its products and services throughout Ontario.