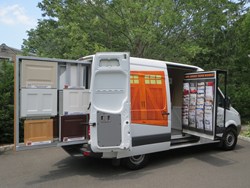 Hillside, NJ (PRWEB) July 31, 2013
New Jersey Door Works, Inc. is proud and excited to announce that they have a new residential rolling showroom. The new showroom, a Mercedes Benz Sprinter, features 75 actual residential door selections.
We invested in our rolling showroom as part of our commitment to bettering the customer experience, educating the customer and helping to make the experience of purchasing a door more comfortable and stress free, said President of New Jersey Door Works, Inc., Mike Serillo.
Customers will be able to see and touch actual door types from all budgets, including steel-raised panel, carriage house, vinyl, insulated and liftmaster motors. The rolling showroom has all the most popular models on display as well as industry literature on hand to give details about the products.
New Jersey Door Works is the leading supplier and installer of all types of residential doors and gates. For more information, a look at their products or to check for specials, visit their website, http://www.njdoorworks.com/.
About the Company:
New Jersey Door Works, Inc. is committed to providing the highest quality of service and products in the industry while keeping the interests of their clients first. They are the preeminent experts in the sale, service and installation of all types of residential, commercial, and industrial doors, gates and loading dock equipment. For over 25 years, they have provided top quality service to homeowners and businesses in the metropolitan New York and New Jersey. Their customers range from the average homeowner to small mom-and-pop shops to multinational Fortune 500 companies. Their capabilities are equally as varied – they gladly accept jobs of all sizes and difficulty. From simple, routine service calls to large, complex industrial installations that only a handful of companies nationwide can handle, they treat every job as a priority, safely, professionally and on time. Call today for prompt, expert, knowledgeable service and a range of products and services designed to provide optimal value to homes or businesses. For information on New Jersey Door Works, please visit their website.