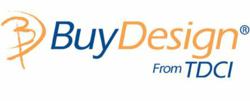 Columbus, OH (PRWEB) May 22, 2012
TDCI, Inc., the leading provider of product configuration software, announced today that Overhead Door Corporation, an international manufacturer of doors and openers for residential, commercial, industrial and transportation applications, has selected the BuyDesign Product Configurator and Guided Selling Suite. Overhead Door will implement BuyDesign in conjunction with their Oracle E-Business Suite ERP system to streamline configure, price and quote (CPQ) processes for the companys extensive dealer network and simplify management of manufacturing data to drive production of make-to-order products.
BuyDesign is a comprehensive solution, developed to streamline the sales, engineering, and manufacturing processes for customized products. BuyDesign helps companies that manufacture products with a wide range of features, options, and dimensions to increase sales by becoming easy to do business with. Using BuyDesign, companies are able to reduce order processing time, cost, and errors.
We selected BuyDesign because its a proven platform for delivering easy-to-use online quoting and ordering capabilities to dealers and distributors in the building products industry, said Larry Freed, Overhead Door Chief Information Officer. We also selected it because it can serve as the single configurator for our enterprise, accessible from all aspects of our business. The configurator will also dynamically generate manufacturing information for configured product orders. That capability greatly simplifies our approach to maintaining bills of material for the extremely wide range of features and dimensions involved in our make-to-order products.
Overhead Door has licensed BuyDesign Configurator, the BuyDesign Channel Sales Guided Selling application, and both the BuyDesign Flex2D and Flex3D dynamic CAD model for engineering and drawing generation components.
We are very excited about the work we will be doing with Overhead Door, said Dan DeMuth, TDCI CEO. They are the most recognized and most well-respected company in the industry and have a very large dealer and distributor network across both residential and commercial markets. This will be one of the larger deployments of BuyDesign in the building products industry.
Overhead Door Corporation, based in Dallas, Texas, is a leading manufacturer of doors and openers for residential, commercial, industrial and transportation applications. The company has five divisions: Access Solutions Division (ASD), which features the Overhead Door and Wayne-Dalton brands; The Genie