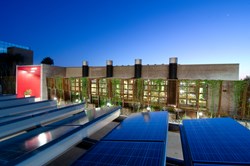 Downtown Phoenix, AZ (PRWEB) August 13, 2013
The new Phoenix Regional Office of DPR Construction, designed by SmithGroupJJR, has been officially certified as a Net Zero Energy Building by the International Living Future Institute (ILFI). Its the largest building in the world to achieve Net Zero Energy Building Certification through the Institute to-date.
SmithGroupJJR designed the comprehensive renovation of the windowless, 1970s concrete block building, transitioning it into a model for sustainable adaptive reuse.
Located at the corner of 44th and Van Buren in a once declining area of Phoenix, the 16,533-square-foot storefront had most recently operated as an adult-themed boutique before standing vacant for three years. The eyesore building was purchased by DPR Construction, a national general contractor and construction manager, which was looking to build a highly-efficient, sustainable workplace and reaffirm its commitment to better the community in which it works.
Today, DPRs new building is an ultra-energy efficient and modern workplace thats embraced by its employees and the community.
Many building owners may think its impossible to turn an aging, neglected building into something highly sustainable especially in an extreme climate like Phoenix. But thats precisely what weve achieved, said Mark Roddy, AIA, LEED AP BD+C, SmithGroupJJR design principal. The entire project was completed in less than 10 months and is the first Net Zero Energy Building SmithGroupJJR has designed.
Net Zero Energy facilities integrate a combination of energy-producing technologies like solar and wind, and implement efficient HVAC and lighting systems to reduce a buildings overall energy usage. To achieve Net Zero Energy Building Certification, a facility must demonstrate a net energy consumption of zero over the span of one year.
SmithGroupJJR incorporated a range of advanced, sustainable design solutions to achieve Net Zero Energy consumption, such as:


An 87-foot solar chimney enables a passive cooling system, releasing hot air out of the building while drawing cooler air in.
Nearly 90 operable windows throughout the building work in tandem with the energy monitoring system to open and close based on indoor and outdoor temperatures.
Eighty-two solar optical tubes, Solatubes harness light from rooftop domes and bring it into the workspace, nearly eliminating the need for artificial lighting.
Twelve 8-foot diameter Big Ass Fans